Figure skates are expensive, so it's important to protect them not only at the rink, but also in transit. That's obvious perhaps, but what ice skating bag is the right one? What kinds of bag are even an option for ice skates? It's not easy to find all the options in one place, so here's my round up of some specialist ice skating bags, and my opinions on each.
The Zuca Rolling Ice Skating Bag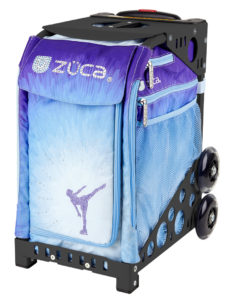 Buy a Zuca and your child will love you forever. At least, that's what I'm told; I haven't bought one. Brand new, a Zuca rolling bag (frame + insert) costs around US$170, which is an awful lot of money, especially when new to ice skating. The frame and insert are sometimes sold as a set or they can each be bought separately to customize the appearance of the bag. So why do so many figure skaters have them? Well:
Large range of bag insert designs and frame colors. You can even have wheels with flashing lights in them.
The seat on top can hold up to 300lb, so you always have a chair wherever you go
Smooth wheels and an extendable handle mean it's easy to move, and because it's not being carried, there's no issue of it being too heavy for a child to lift
Matching accessories like a seat cover, lunchbox or utility pouch
Handy pockets on the outsides, the inside of the 'door' (the front flap) and even inside the top of the insert.
Having a strong metal frame around the insert provides your skates with a degree of protection (though the insert itself is not rigid of course).
However, here's the bad side as far as I'm concerned:
They're expensive. At least, they're more than I would casually pay for a bag.
The web site fails to display the inside of the inserts in most cases, and even when shown, you can't see it all. For example, somebody recently bought an insert and discovered that it did not have the very useful storage pocket inside the 'roof' of the insert, but you'd probably have no idea based on the website pictures.
The skates get put inside the bag along with everything else, then the bag gets zipped shut. This is not great for ventilation, so to look after your skates properly the case must be opened once it gets home to let the contents dry out properly.
With all that said, the Zuca is clearly still the number one ice skating bag choice for figure skaters, so if you can find somebody selling their old Zuca for $20-30, it's a pretty neat option.
Ice Skating Bags
There are many bags available which are basically triangles with zippers on them, and they tend to be priced very reasonably. Typically these skate bags have a single zipper on them, and everything gets put into the single central pocket. Unfortunately, like the Zuca bags, the design of these bags would appear to encourage the collection of moisture within them, and unless the user is consistent about opening and ventilating them when arriving home, I would worry about building up a moldy smell, and the potential for rust on the blades. Lacking wheels, these bags usually have both a shoulder strap and a handle for carrying.
Despite the reasonable price, I can't persuade myself to purchase a sealed ice skating bag like this. Instead, I've come to appreciate the ventilated ice skating bags.
Ventilated Ice Skating Bags
Here's my current preferred ice skating bag. For a beginning skater I believe this is the perfect blend of low price and functionality, and to be honest, it's not far off being ideal for a more advanced skater too.
These bags are all similar in size to the ice skating bags above, with one crucial difference; the ice skates go in zipped outer pockets which are covered wholly or in part by a mesh. This is actually a really great thing because it provides easy ventilation for the skates, which means the soakers dry out quickly, and the (possibly stinky) skates themselves get to air out a bit. Arguably the one down side of the mesh might be that carrying this bag for a distance in the pouring rain would let the skates get wet, although that has yet to be a problem for me.
The center zipper section is reasonably roomy, and without the skates being in there getting in the way, digging through to find the thing you're looking for is fairly easy, although with most of the bags, a black lining means that anything dark (gloves, boot covers, etc) disappears into the visual void pretty quickly. Overall though, these bags are just great, and for the $15-20 I paid new for each of the bags for my children, I'm happy.
The Transpack bags shown above have another trick up their sleeve; where the other two bags have a shoulder strap, the Transpack ice skating bags are actually back packs.
Ice Skating Back Packs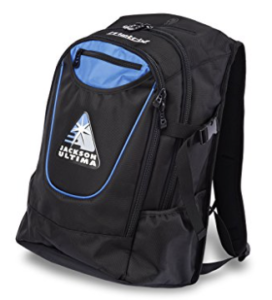 Ice skating back packs tend to align with the two bag categories above, either ventilated (like the Transpack) or unventilated like the Jackson Ultimate back pack shown here.. The same basic pros and cons apply in terms of allowing the skates to dry out, with my personal favor leaning towards the ventilated back packs for that exact reason. Prices for back packs can be higher than for the simpler ventilated bags, but that extra money buys you more pockets and compartments than you can shake a stick at. Anybody who loves a well-organized bag would do well to consider something similar to the Jackson Ultimate JL600 shown above. The Transpack Ice by comparison is basically a ventilated ice skating bag with back pack straps, so a simpler and cheaper compromise.
Rolling Suitcases / Trolley Bags
Recently I've been seeing more skaters opting to use some kind of rolling suitcase, typically hand-luggage size, or pretty close to it. While some are genuinely items of luggage, others – like the Riedell Travel Bag and the Jackson Trolley Bag are designed specifically for skates. I must confess that despite the high price, I'm particularly enamored by the Jackson Trolley Bag, which not only has dividers on the inside of the case to organize the contents, but the bag on the front detaches and becomes a backpack with a number of compartments in it. It's not ventilated, but none of the wheeled bags appear to be, so with the caveat that skates should probably be removed when not in use, I happen to think these are a really nice, if costly, option.
The Box The Skates Came In
Admit it, you considered it – and that's ok. The problem is that the box is bulky, often uncomfortable to carry, has little room for anything else, and – being cardboard – will break within a week or two. Still, for short term use when new skates arrive, the box is an easy initial choice.
Any Other Bag
All the options above (except perhaps the box) are designed for use with ice skates, but that shouldn't lead to the conclusion that only these special ice skating bags are acceptable to use. It's perfectly fine to use any bag that will hold the skates and all the other essentials a figure skater needs. Really, once you get to the rink, who cares what the bag looks like? The ice is what matters! If you do get a regular bag of some kind, just take the time to size the bag properly so that the skates aren't jutting out through the sides and banging into everything you walk past, or trying to stab your legs at every opportunity. Beyond that, from Walmart to Gucci, if the skates fit and you like the bag, enjoy using it!
Affiliate Links
(If you can't see any links here, you probably have an ad-blocker)